Managing COVID 19 Transmission Risk
Following the advice from the British Acupuncture Council which is based on the Government's guidelines to help stop the spread of the COVID 19 virus:
I have undertaken an infection control risk assessment and implemented changes to my acupuncture treatment environment to ensure infection control and prevention measures are in place for everybody's safety.
Please download and read this document  – Managing COVID 19 Transmission Risk –  before proceeding to contact Lai Chee Acupuncture. Many thanks…
Welcome!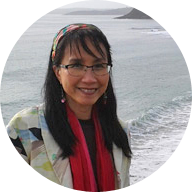 W elcome to Lai Chee Acupuncture – Acupuncture for the Tavistock Plymouth and Callington Areas.
– My name is Lai Chee Choy-Ryves, and I am a qualified practitioner with an Honours degree in Acupuncture from The University of Middlesex. I am a member of the British Acupuncture Council – the main governing body for Acupuncturists in the UK.
I have always been captivated by the amazing Healing power of our body. I am passionate about the Healing methods I use.
I am also trained in Natural/Spiritual Healing and Thought Field Therapy, which, like Acupuncture, are some of the most effective, Natural Healing therapies. I also teach Tai Chi Qi Gong and Relaxation, which I have practised now for over 30 years.
Please feel free to explore my website, where you will find more information on Acupuncture, details about my Clinic – including the rates that I charge – together with a page of FAQs and a little bit more about Lai Chee Choy-Ryves.
…And thank you for visiting!