In spite of the easing of lockdown etc. there are still a lot of unknowns & uncertainties about COVID19, so before contacting me please download and read this COVID19 preventative procedures document, where up to date systems and practices are laid out for our mutual safety and wellbeing.
Thank you – and welcome back!
Welcome!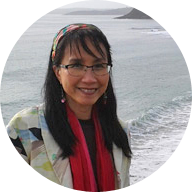 W elcome to Lai Chee Acupuncture – Acupuncture for the Tavistock Plymouth and Callington Areas,  as well as further afield.
– My name is Lai Chee Choy-Ryves, and I am a qualified practitioner with an Honours degree in Acupuncture from The University of Middlesex. I am a member of the British Acupuncture Council – the main governing body for Acupuncturists in the UK.
I am also trained in Natural/Spiritual Healing and Thought Field Therapy, which, like Acupuncture are very effective, Natural Healing therapies.
I also teach Tai Chi Qi Gong and relaxation with Cornwall Adult Education and privately from home. When I was very ill I learned Tai Chi about 30 years ago from a Master – my late Father; a remarkably inspirational physician and teacher.
I have always been captivated by the amazing Healing power of our body. I am passionate about the Healing methods I use. My training in these wonderful Healing arts help me with the flow of my Energy and life, and it is very fulfilling to be able to help other people.
I give talks and demonstrations to various groups and organisations on Acupuncture and Tai Chi.
Please feel free to explore my website, where you will find more information on Acupuncture, details about my Clinic – including the fees that I charge – together with a page of FAQs
…And thank you for visiting!